The rifle in Breakout is NOT an M14, it is a modern copy by the company Ruger. One can tell by the synthetic furtniture, semi-sportorized barrel and the smaller size. The rifle in-game is a Ruger Mini-14.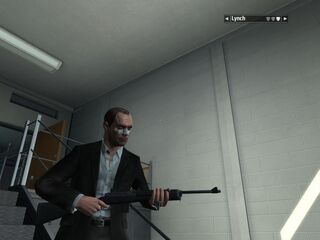 Kane & Lynch: Deadmen
Edit
The Mini-14 is only seen in the Breakout chapter. You will wish it was elsewhere due to its incredible stopping power and accuracy. It is a recommended weapon for the chapter.

As stated above the rifle is only in Breakout and not available in Fragile Alliance.
Ad blocker interference detected!
Wikia is a free-to-use site that makes money from advertising. We have a modified experience for viewers using ad blockers

Wikia is not accessible if you've made further modifications. Remove the custom ad blocker rule(s) and the page will load as expected.