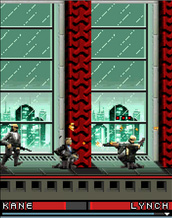 Kane & Lynch: Dead Men (Mobile), or Kane & Lynch Mobile was a mobile version of Kane & Lynch: Dead Men. It was released around the same time as the PS3 and Xbox Version. It was developed by Eidos Mobile. The game its totally made by Java engine, supporting all type of cellphone.
Players can expect to encounter up to 38 levels in this game and encounter up to five gripping scenarios. The game is filled with many unique weapons, gameplay, and action.
Ad blocker interference detected!
Wikia is a free-to-use site that makes money from advertising. We have a modified experience for viewers using ad blockers

Wikia is not accessible if you've made further modifications. Remove the custom ad blocker rule(s) and the page will load as expected.